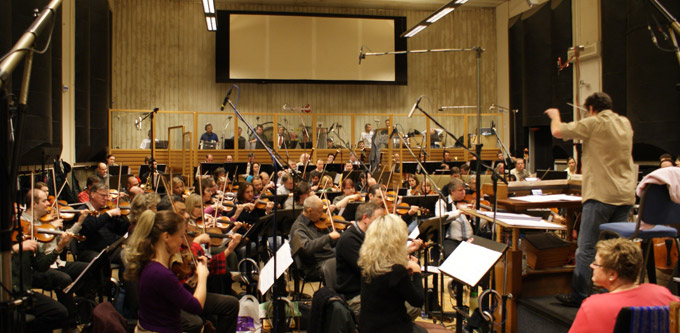 The City of Prague Philharmonic Orchestra
Music Director: Nic Raine
Orchestral Manager: Josef Pokluda
The City of Prague Philharmonic Orchestra and Chorus have become one of the most recorded and respected orchestras in the world. They were formed by Josef Pokluda and James Fitzpatrick as an exclusive recording orchestra and chorus drawing on the finest musicians from Prague's 5 full symphony orchestra and numerous chamber and instrumental ensembles. In recent years they have also been in great demand for performing film music and popular classics concerts all overEurope …which led to a tour of South America with conductor Nic Raine and guest soloist Itzhak Perlman.
Recording in Prague could not be simpler, whether it be for Film, TV, or Video Game scores; Album Recording or backing tracks for concerts, as there is just one basic fee per musician per session with no hidden extras. So you can have access to some of the finest orchestral players in Europe at affordable prices, currently from E17.25 (£15) per musician per hour for a 100% total buyout for any recording media.
For more information please visit http://www.cityofpraguephilharmonicorchestra.co.uk/
What the composers say…
"The hallmark of Tadlow Music is calm, experienced professionalism. You can concentrate on conducting and recording your music safe in the knowledge that you are surrounded by a seasoned, friendly, hard-working team whose only aim is to help you create a wonderful score.
The Prague musicians are passionate virtuosi, who are dilligent, respectful and highly motivated. On my numerous scoring assignments in Prague I have never been disappointed by the brilliant musicianship, dramatic energy, flair, humour and heart that the orchestra gives in performance.
James Fitzpatrick with his encyclopedic knowledge and understanding of great film music, has a warm, personable, helpful style and after years of experience as a soundtrack record producer is certainly a bonus in the control room … especially when you are on a tight schedule!"
COMPOSER – CONDUCTOR: MARK THOMAS
"I sincerely appreciate the professionalism, attention to detail, and incredible assistance of Tadlow music in providing us with world-class recording experiences. If you want your project to exceed your high expectations, contact Tadlow and record in Prague. The musicianship, engineering, and even the historic city are hard to beat on any continent!"
Brian Felten, American Producer, Discovery House Music
"We have had the enormous pleasure to work with Tadlow Music on several projects over the past 6 years, in every instance Tadlow Music has made all of the arrangements for the orchestral personnel, for all of the recording and translating personnel, for hotels, for music preparation and anything else that was needed and requested. Tadlow Music has done so with total professionalism, with excellent attitude and excellent results every time. We always recommend Tadlow Music to anyone who is interested to record in Europe as satisfaction is guaranteed every time."
COMPOSER – CONDUCTOR: CARLOS FRANZETTI
"The rendition of THE MATRIX is really excellent …this is high quality music recording" (Don Davis)
"Better than the original soundtrack" (Dennis McCarthy)
"I just played the new recording of my score to THE VIKINGS: Bravo! Bravissimo!" (Mario Nascimbene)
"You've got a good score? Go to the City of Prague Philharmonic, they'll bring the best out of it. They love to play good music all the time" (Frank Peterson, Composer, Arranger and Producer of the last 6 Albums by Sarah Brightman)
"Bravo on your fine recordings and performances on SPACE3. I thought the renditions were fresh and well realised…keep up the good work" (Basil Poledouris)
"A wonderful orchestra, full of enthusiasm in their performance and with a big, rich symphonic sound. I was impressed with the speed of their sight-reading and the high level of musicianship that brought my scores to life." (Adam Saunders)
"Apart from their fine playing, the Prague musicians have a refreshing attitude to their work. They are always willing to give the best performance and cope with the unpredictability of film sessions with as much versatility as any other group." (Nic Raine)
"Nowhere beats the cost/quality ratio of Prague. A fantastic place to record if you haven't got the budget of a major studio picture. I come back time and time again. That says it all." (Julian Nott)
"I have recorded over 160 hours with the CPPO, so I have obviously been happy with my results to keep returning. Everything runs smoothly, and I have had no technical problems with recording to picture. I have become so comfortable that I forget that I'm talking to the musicans in a different language. I highly recommend the City Of Prague Philharmonic Orchestra." (David Michael Frank)
---
Some of the original Film, Video and TV scores recordings of the past few years include:
THE DUCHESS – Rachel Portman
GREY GARDEN – Rachel Portman
THE PIRATES WHO DON'T DO ANYTHING: A VEGGIE TALES STORY – Kurt Heneicke
BANJO KAZOOIE – Grant Kirkhope
HEAVENLY SWORD – Nitin Sawnhey
HUMAN CONTRACT – Anthony Marinelli
CALL OF DUTY: WORLD AT WAR – Sean Murray
THE CAT AND THE CANARY – Neil Brand
DOROTHY MILLS – Nathaniel Mechaly
WAR IN THE MOUNTAINS – Guy Farley
MEGA MOVIES – Daniel Pemberton
NAPOLEON – Daniel Pemberton
ATTILA THE HUIN – Daniel Pemberton
THE POSSIBILITY OF AN ISLAND – Mathis Nitschke
VIVA PINATA 1 and 2 – Grant Kirkhope
THE ASSASSINATION OF RICHARD NIXON – Steven Stern
STAR WARS: THE CLONE WARS – Kevin Kiner
REVELATIONS – Joseph Vitarelli
KAMEO – Steven Burke
KRISSH – Salam Sulaiman
MEHBOOBA – Ismail Barbar
AUSBILDE SCHMIDT – Moritz Schneider / Robin Hoffmann
JAQUES LE CROQUANT – Laurent Boutonnat
THOR – Guy Michelmore
INSPECTOR LINLEY – Andy Price
GUMBALL 3000 – Andrew Skeet
THE UNDERSTUDY – Carl Davis
L'AVION – Gabriel Yared
SHOGUN – John Keane
HIROSHIMA – Daniel Pemberton
THE SOMME – Daniel Giorgetti
VIKING: BATTLE FOR ASGARD – Richard Beddow
MOONDANCE ALEXANDER – Mark Thomas
BRITANNIA – Robert Hartshorne
LE SAINT VICTOIRE – Bruno Bertoli
DISTRICT 9 – Clinton Shorter
INRAHIM LABYAD – Hesham Nazih
NINJA – Steve Edwards
THE LORDS OF JUDAH – Greg Sims
ZOOMERBE – Nicklas Schmidt
SUPERBROR – Frans Bak
ABOUT SARAH – David Michael Frank
ANATOMIE 2 – Marius Ruhland
ANAZAPTA – Dan Jones
THE ASSASSINATION OF RICHARD NIXON – Steven M. Stern
BATTLE OF THE SEXES – Martin Kisko
CHAPLIN: THE MUTUALS – Carl Davis
THE CHAPLIN PUZZLE – Soren Hyldgaard
A CHRISTMAS CAROL –
THE MOVIE – Julian Nott
CINEMA EUROPE – Carl Davis, Nic Raine, Philip Appleby
DC MILLE – Elmer Bernstien
THE DIARY OF ANNE FRANK – Graeme Revell
DOORS OF GLORY – Alexandre Desplat
DUNE – Graeme Revell
DURANGO – Mark McKenzie
EASTERN BRIDE – Hilary Brooks
THE EDWARDIAN HOUSE – Daniel Pemberton
EYE OF THE EAGLE – Soren Hyldgaard
EYE OF THE STORM – Kevin Kiner
HITCHHIKERS GUIDE TO THE GALAXY – Joby Talbot
THE IRON MASK – Carl Davis
JESTER TILL – Soren Hyldgaard
KILL ZONE – Joris de Man
THE KING'S BEARD – Philip Appleby
THE LONELINESS OF CROCODILES – Dieter Schleip
LOST HIGHWAY – Angelo Badalamenti
LITTLE GIRL FLY AWAY – David Michael Frank
A KID IN ALADDIN'S PALACE – David Michael Frank
MADISON – Kevin Kiner
THE MAN FROM THE ELYSIAN FIELDS – Anthony Marinelli
MAN OF 1,000 FACES – Nic Raine
THE MOLE – David Michael Frank
A MONKEY'S TALE – Alexandre Desplat
THE NINTH GATE – Wojciech Kilar
NOSFERATU – James Bernard
NOTEZART – Carl Davis
PHANTOM OF THE OPERA – Carl Davis
PORTRAIT OF A LADY – Wojciech Kilar
PRIMAL – Bob and Barn
THE REGENCY HOUSE – Daniel Pemberton
A RESPECTABLE TRADE – Julian Nott
THE RING – Michel Legrand
THE SCARLET PIMPERNEL – Michal Pavliek
THE STAIRCASE – David Michael Frank
A THOUSAND MEN AND A BABY – David Michael Frank
THE TRIAL – Carl Davis
THE VAMPIRE HUNTER – James Bernard
WINGS – Carl Davis
PRAGUE RECORDING VENUES
As the CPPO is based at Smecky Music Studios this is obviously our main recording base as it is is situated right in the centre of Prague – near Wenceslas Square. It is spacious – large enough to accommodate a full symphony orchestra and choir – and highly prized by musicians for its acoustic qualities.
For more information please visit http://www.cityofpraguephilharmonicorchestra.co.uk/
Also additional locations are available due to the demand to record in Prague incl:
THE MUSIC STUDIOS OF CZECH TELEVISION
The ideal venue for smaller orchestral recording and string overdubs
THE STUDIOS OF CNSO
Newly refurbished large studio about 30 minutes from Prague Centre
THE DVORAK CONCERT HALL of the RUDOLFINUM
Acclaimed as one of the greatest Classical acoustics in the world. Very much in demand as both concert hall and recording venue … and of course home of the Czech Philharmonic Orchestra