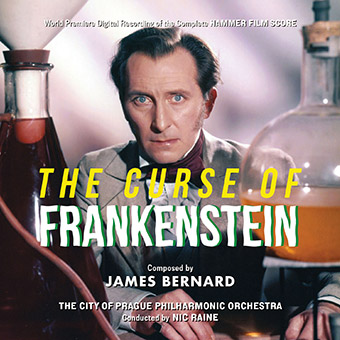 TADLOW MUSIC
Presents
DRACULA
THE CURSE OF FRANKENSTEIN
World Premiere Recordings of the Complete Scores from Two Classic Hammer Films of the 1950s
THE CURSE OF FRANKENSTEIN starred Peter Cushing as Baron Victor Frankenstein and Christopher Lee as The Creature. This outstanding 1957 horror film began a whole series of films starring these two great icons of terror and was one of the best movies from Hammer Productions.
DRACULA, made in 1958, also starred Peter Cushing (as Doctor Van Helsing) and Christopher Lee (as Count Dracula). It is difficult to overestimate the significance of DRACULA as it set the tone for Hammer's movie output over the next two decades when British horror films were among the most admired and popular films. DRACULA created international stars out of Christopher Lee and Peter Cushing.
The music for both these films was composed by James Bernard, who created music for many more classic Hammer films including: SHE * THE QUATERMASS XPERIMENT * THE DAMNED * DRACULA: PRINCE OF DARKNESS * THE DEVIL RIDES OUT * TASTE THE BLOOD OF DRACULA * THE LEGEND OF THE 7 GOLDEN VAMPIRES
A distinctive trait in Bernard's Hammer scores is their use of clashing harmonies, often created by doubling a motif a tone higher, as in his famous Dracula theme. His music is also frenzied and pacey at times, frequently making use of percussion such as timpani and snares. He could also write lush, romantic melodies, however. such as appear in Frankenstein Created Woman, Taste the Blood of Dracula and Scars of Dracula.
Newly Recorded in Stunning and Dynamic Digital Sound
Performed by the Acclaimed and Award-Winning City of Prague Philharmonic Orchestra Conducted by Nic Raine
New Score and Bernard's own Orchestrations Reconstructed by Leigh Phillips
20-Page Full-Colour Booklet with Informative Sleeve Notes by Hammer Film Music Expert David Huckvale – plus numerous original film stills and posters.
OVER 70 MINUTES OF MUSIC
Includes Bonus Track "Rhapsody for Lucy" Composed by Leigh Phillips from the Dracula Theme by James Bernard
Recording Produced by James Fitzpatrick for Tadlow Music
With Associate Producers Mark Bagby and Leigh Phillips
THE CURSE OF FRANKENSTEIN
Main Title From The Curse of Frankenstein (1:48)
2. A Brilliant Intellect / It's Alive (4:31)
3. The Gibbet (3:39)
4. An Offer of Help / Goodnight Professor / The Professor's Brain (4:56)
5. The Creature / He's Gone (2:48)
6. The Creature and the Blind Man / You Shoot Well / I'll Give You Life Again (2:59)
7. Justine's Fate (4:12)
8. Get Up / Final Confrontation / The Guillotine (9:06)
DRACULA
9. Main Title From Dracula (1:53)
10. Arrival at Castle Dracula (4:41)
11. Plan Revealed / Plea for Help / Dracula's Rage (5:22)
12. The Mausoleum / Harker Stakes the Bride / Empty Casket (4:58)
13. The Diary / Van Helsing Finds Harker (2:06)
14. Sleep Well / Dracula Seduces Lucy (2:07)
15. Lucy's Second Encounter / Garlic Flowers (2:36)
16. Aunt Lucy / Lucy Is Released (3:29)
17. Mina Ensnared / It Was There (1:09)
18. Allergic Reaction / Mina's Submission (2:55)
19. Bloodstained Mina / The Cellar (1:00)
20. The Final Battle (4:34)
Bonus Track
21. Rhapsody for Lucy (Lucie) (4:14)
Composed by Leigh Phillips based on a theme by James Bernard
TT: 75:15
Catalogue Number: TADLOW 032
Release Date: OCT 25th 2019….just in time for Halloween !